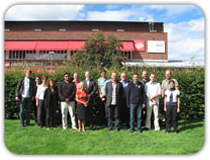 The FLAVIOLA Vision
FLAVIOLA's vision is that through collaborative research into the function and delivery of flavanols, we will provide the foundations for the development of innovative and natural food products that have a far-reaching impact on European public health and well-being.

"FLAVIOLA is a unique research project. We aim to develop an optimised flavanol-rich diet without altering the natural flavanol source or enriching dietary flavanol content," commented Prof. Kelm, Professor of Medicine and Cardiology, Heinrich Heine University, Düsseldorf and FLAVIOLA Scientific Director.

Cutting-edge Research
As Prof. Marc Merx, FLAVIOLA coordinator underlines, FLAVIOLA will leverage the latest innovations in chemistry, cardiovascular function analysis, food processing technology and flavanol analytics to:
Illuminate the cellular and sub-cellular effects of flavanols and their main human metabolites. This work will also cover nutrient-receptor interactions, as well as up-stream and down-stream signal cascades.
Investigate the key parameters of dietary flavanol absorption, clearance and efficacy towards surrogate markers of cardiovascular function in humans.
Assess the nutrient-derived biological benefits of flavanols, such as improved cell and organ functionality and whole organism vitality.
Develop innovative, natural and nutritionally responsible food matrices for optimised dietary flavanol delivery.
Demonstrate cardiovascular benefits and safety for a newly developed prototype food product.